Arts programs don't just happen.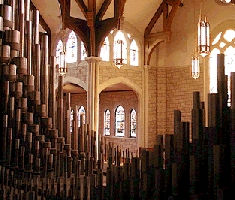 Because you appreciate music and art, you know that attendance at series offerings is just the first step to help guarantee the continued success of this series. Artists don't work for free, nor should we expect them to. Ongoing contributions are needed. With your contribution, we can continue to offer superior performances and events at a greatly subsidized cost to all who attend.
Many events offered as a part of GREAT SPACES are free or only a freewill offering is suggested. This allows people and families in our community to attend great performances that might not otherwise be able to attend. Even "ticketed events" suggest only a minimal donation–an amount that usually doesn't cover the cost of the event.
So how can you help? Become a Friend of GREAT SPACES. Your tax-deductible donation at any level is appreciated and 100 percent of your donation will go directly to fund concert events. Checks can be mailed to the Cathedral at any time and should be made payable to "Grace Cathedral" and noted "for GREAT SPACES".
Suggested donation levels include:
Angel ($5,000 +)
Benefactor ($1,000 to $4,999)
Sponsor ($500 to $999)
Patron ($250 to $499)
Supporter ($100 to $249)
Friend ($50 to $99)
Donor (up to $49)
Are you interested in making a donation? Contact us!
Want to do more?
Ushers – Consider ushering. Concert greeters are always needed. Ushers generally arrive one hour prior to the start of the concert and greet concert goers, distribute programs and, when an event is ticketed, collect tickets. It's easy and fun. Contact us to communicate your desire to volunteer!
Reception Volunteers – Many of our concerts also include a reception so concert goers can linger and meet the artists and explore the Cathedral. If you like to bake or provide cookies and/or serve as a reception host, let us know. Contact us to communicate your desire to be a reception volunteer.